Upgrade Your Office Carpet With Phillips Workplace Interiors Lift Services
Traditionally, replacing the carpet in a full functioning, active workplace is an extensive and expensive process.  This would require removing the old furniture, removing the existing carpet, installing your new flooring, and setting up your existing furniture to how you left it. This process would adversely affect your company's productivity, workflow, and bottom line.
Some benefits of using Phillips Workplace Interiors office furniture lift technology for your carpet tile installation: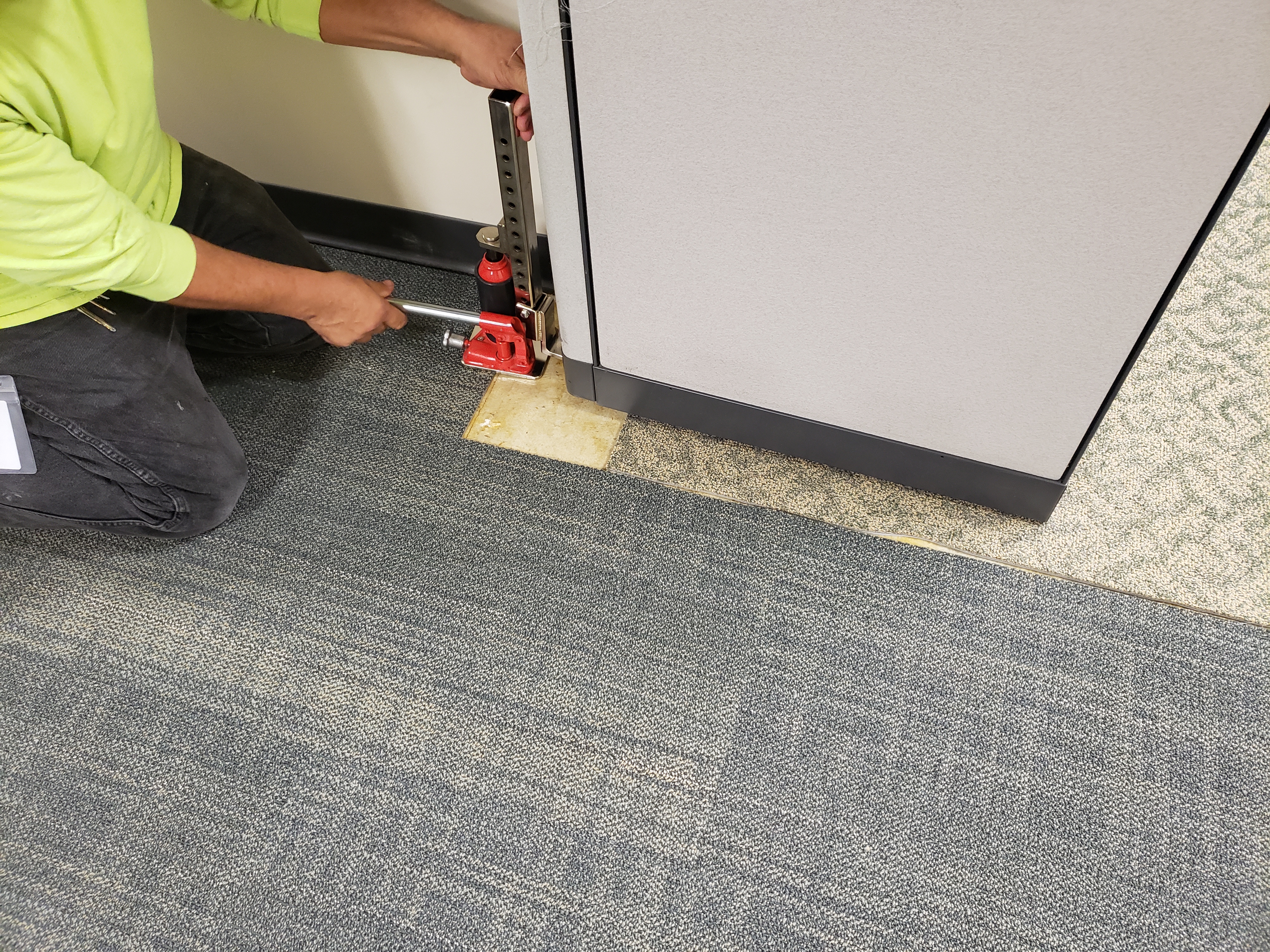 Work is done overnight, during off-peak work hours, limiting disruptions
Your current, valuable, office furniture doesn't need to be dismantled and rebuilt, eliminating a chance for furniture damage
Carpet tile is easily cleaned or replaced for soiled, high traffic areas
Office furniture lift technology decreases the length of installation time
Furniture lifting jacks allow us to install new carpet without moving, packing or disconnecting existing data or electrical wires that reside within the furniture system.
Can save your business up to 30%, compared to broadloom carpet
Carpet tiles allow for freedom with design, allowing you to give more depth and texture to a room.
Most Carpet tiles are a low pile, which improves indoor air quality
Carpet tiles are more moisture-resistant than wall to wall carpet
A detailed plan will be provided to each employee to limit disruptions and confusion around the installation process
25 years of flooring experience on staff to walk you through the process and answer any questions you may have
Trained, professional installation staff
Please contact Randy Cain, our flooring and architecture expert, at RCain@phillipsatwork.com or 717-307-6082 if you would like to find out more.

---
Google My Business Page
We've recently joined the Google My Business community and would love to hear your feedback on how we are doing!  While you are there, please check out some of the new Steelcase offerings in our photo gallery as well.