Privacy Solutions For The Workplace
As we are meeting with potential clients across the Commonwealth of Pennsylvania, a common trend continues to arise; we lack collaboration and private meeting space.  CityLab goes as far as to call it the cubicle of the 21st Century. The following privacy pods from the Steelcase collection solve a lot of workplace pain points while increasing productivity.
Orangebox's award-winning Air³ acoustic pod range can act as a freestanding meeting room, private space, phone booth or touchdown room.
Interchangeable panels allow you to refresh your Air³ at will, swapping, changing and refreshing colors and fabrics to fit your own unique preferences and requirements. Its combination of high quality glass and soft acoustic paneling delivers both a refined aesthetic and a high level of insulation and speech privacy.
SnapCab Pods provide the opportunity for independent concentration or collaboration with colleagues. Available in various sizes, SnapCab Pods provide an experience that supports productivity with quiet ventilation for constant air flow, LED lighting for consistent illumination and an option for Corning® Gorilla® Glass markerboard. For sustainability, an occupancy sensor keeps lighting and fans on only when needed.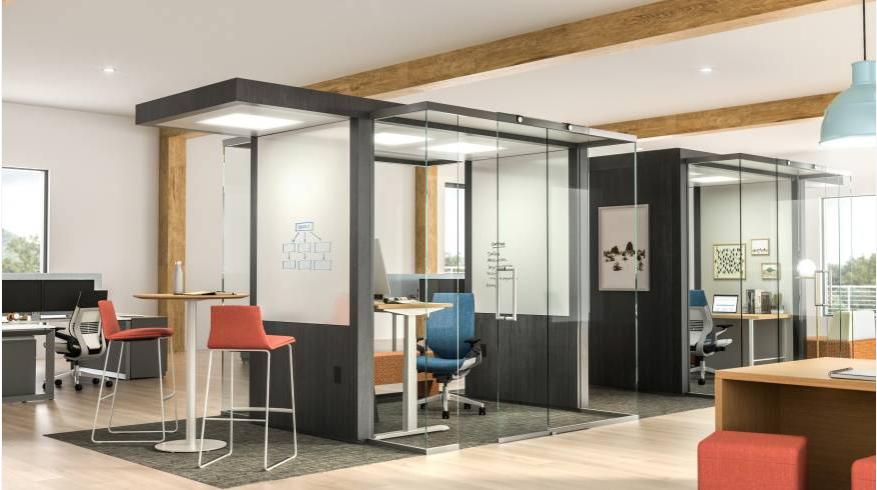 IRYS:
Today's workers must be creative problem-solvers. The IRYS office privacy pod meets workers' diverse needs for collaboration, privacy, focus and regeneration in a whole new way.
We believe the only way to provide the best office furniture solutions is to ensure they're the best products for the environment. That's why every step of the way – through design, manufacturing, delivery and product lifecycle – we consider the impact of our work on people and on the environment and uncover opportunities to make things better.
---
Google My Business Page
We've recently joined the Google My Business community and would love to hear your feedback on how we are doing!  While you are there, please check out some of the new Steelcase offerings in our photo gallery as well.
We are always looking for committed, connected and curious individuals to join our team, employment opportunities available.